Special Collections continues our archival project
Archives Gold: 50 Objects for UMBC's 50th
, a special series showcasing 50 different objects that tell the story of UMBC. This week we present a photograph of Tom Berlin, the winner of the UMBC mascot contest, posing with new UMBC mascot the Chesapeake Bay Retriever.      
The UMBC News
. Volume 1, Number 5, University Archives, Special Collections, University of Maryland, Baltimore County (Baltimore, MD) 
In September of 1966, The UMBC News featured an article calling for a "Find Our Mascot" contest for the new UMBC university. 
 "'IT" comes... swiftly over hills and plains in a feverish attempt to reach UMBC on time... IT comes.. A nameless beast which will become the lovable pet of students for years to come..." 
was
 written within The UMBC News (Volume 1, Number 1) to encourage all UMBC students to enter and offer their suggestions for the campus' mascot as well as the student newspaper. The administration ran these contests in the hopes of giving UMBC students the ability to participate in forming tradition at UMBC. 
Just a short month later, the Chesapeake Bay Retriever, student Tom Berlin's suggestion, was chosen among the various entries to be the official UMBC mascot and the name of the school's newspaper.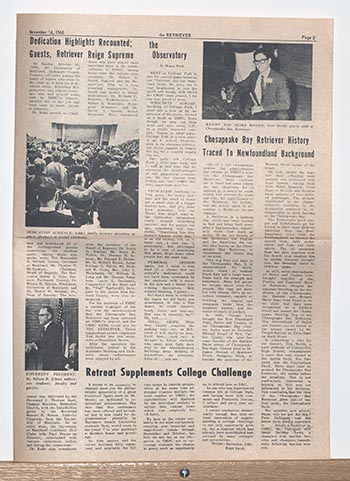 Learn More: