Special Collections continues our archival project
Archives Gold: 50 Objects for UMBC's 50th
, a special series showcasing 50 different objects that tell the story of UMBC. This week we present a "Hagy For President" pin from the second SGA elections at UMBC.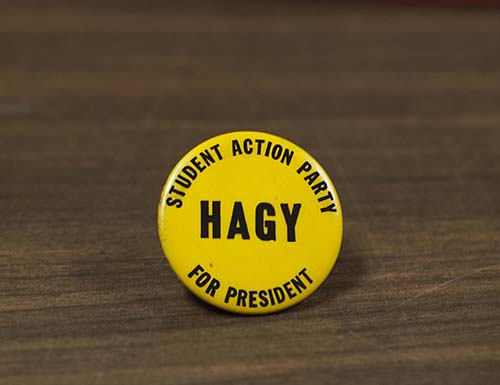 "Student Action Party Hagy For President" pin. University Archives, Special Collections, University of Maryland, Baltimore County (Baltimore, MD) 
Darryl Hagy was UMBC's second Student Government Association president.  As a member of the Student Action Party, Hagy was passionate about getting UMBC students engaged in activism and social change. For instance, he formed the College Council on Human Relations, an innovative committee focused on service learning and community involvement. During his SGA presidency, the UMBC campus also organized an event in correspondence with the National Time-Out Day in Fall of 1968 called a "Bitch-In." The campus stopped classes for the day and invited students to discuss and speak out on topics like cooperative housing, fraternities, racism, and student power. 
Learn More: