Special Collections continues our archival project
Archives Gold: 50 Objects for UMBC's 50th
, a special series showcasing 50 different objects that tell the story of UMBC. This week we present photographs from a Tug of War contest over Library Lake in 1969.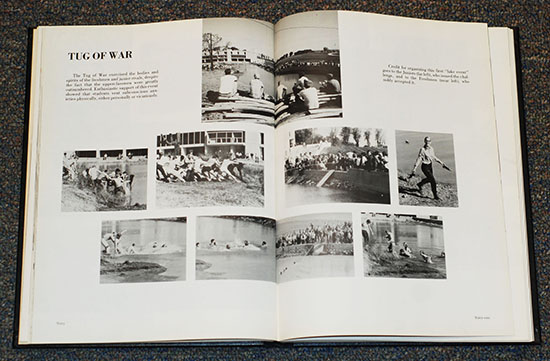 Skipjack, Volume 2, 1969. UPUB S2-001. University Publications, University Archives, Special Collections, University of Maryland, Baltimore County (Baltimore, MD) 
The pond next to the Albin O. Kuhn Library has been a fixture at UMBC since its opening. In 1969, the junior class at UMBC organized a Tug of War contest to be held over the library pond, as can be seen in the photos above. This was the first "lake event" held at UMBC, and was met with overwhelming support. So much so, that just a few weeks later another lake event, a Raft Contest, would be organized. Students raced rafts and canoes across the pond as part of the activities of Spring Week. Photographs of this can be found in a link below. 
Learn More: