Special Collections continues our archival project Archives Gold: 50 Objects for UMBC's 50th, a special series showcasing 50 different objects that tell the story of UMBC. This week we present a brochure from the 1995 MindFest.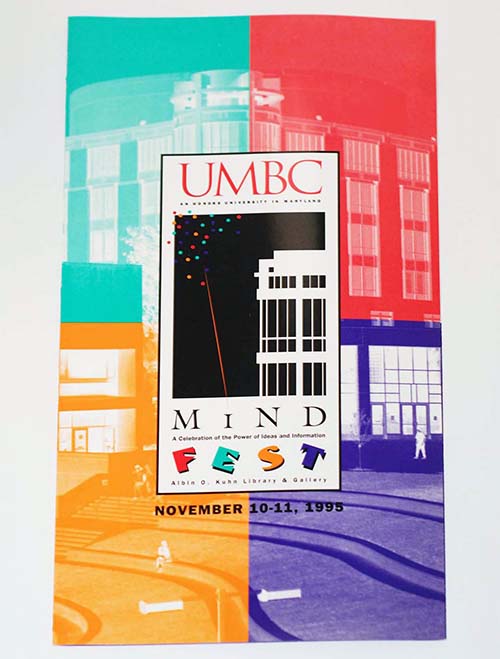 MindFest Brochure, 1995. UPUB I1 Institutional Advancement Records, Box 8, Folder 30, 

University Publications, University Archives, Special Collections, University of Maryland, Baltimore County (Baltimore, MD)
Between the late 1990s and the early 2000s, UMBC hosted MindFest, an annual event advertised as "a celebration of the powers of idea and information." 
The first MindFest, held in 1995, was created to celebrate the opening of the newly renovated Albin O. Kuhn Library with a ribbon-cutting ceremony, tours of the library, and views of the newly renovated gallery.
The university continued the celebration yearly, offering various events and activities for students, their families, friends, alumni, and the surrounding Baltimore and Washington communities to participate in.
Events of the day often included Chessfest (UMBC's Chess Team would participate in a match of chess with another university), Diplomat for a Day (visitors would participate in simulated diplomatic debates with the UMBC Model United Nations team), tours of art and photography exhibitions, musical performances, and children's activities. 
Learn more: