The Albin O. Kuhn Library & Gallery is excited to announce the release of new and updated records for the Library's archival collections, a major milestone in providing easier searching of the holdings. The 16-month-long project creates collection-level records and implements an Encoded Archival Description (EAD-XML) compliant workflow for the collections.
As of January 2016, Library staff have successfully updated over 100 finding aids and collection-level records, and created new collection-level records for nearly 50 previously-undescribed archival collections. A workflow was created to convert records to both EAD-XML and MARC-XML formats using national descriptive standards. These records will be made available in multiple access systems including the Library Catalog, the Special Collections Search (PastPerfect Online), and through union catalogs such as OCLC's ArchiveGrid and the National Library of Medicine's History of Medicine Finding Aids Consortium. The updated records will facilitate access to UMBC's archival collections and help to more effectively reach the researchers, scholars, students, and community members that are seeking the unique materials held at UMBC.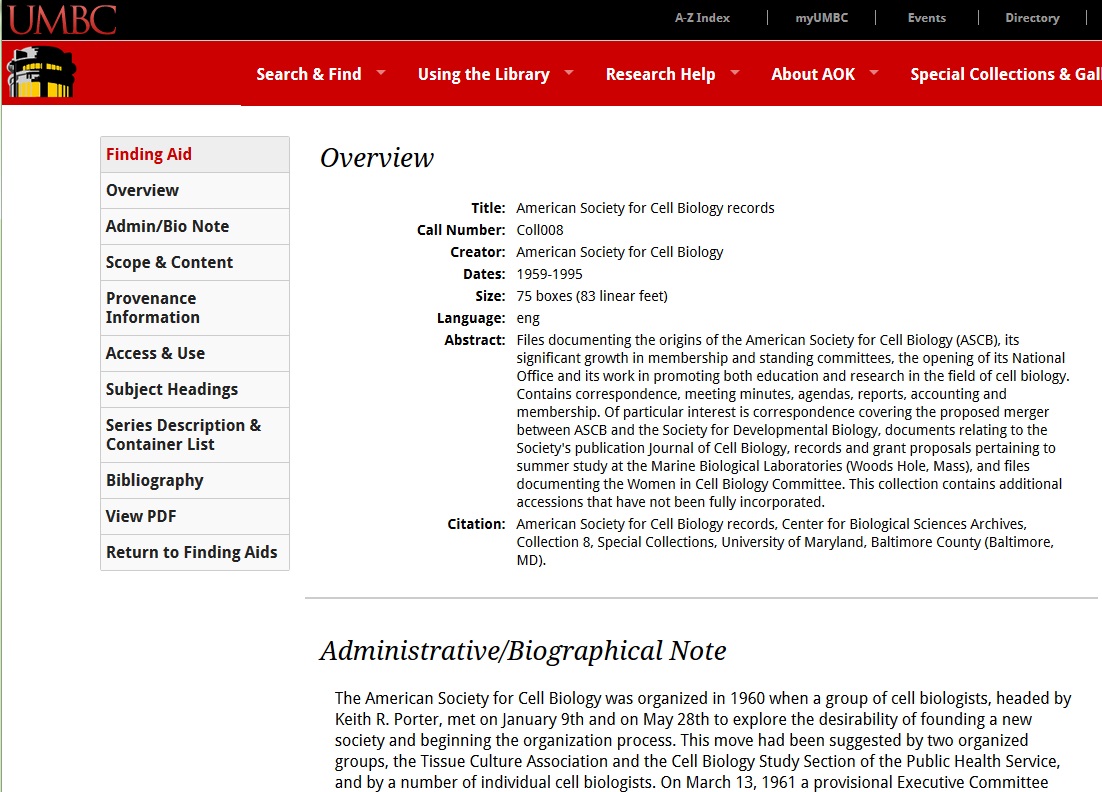 Screenshot of the new online finding aid for the American Society of Cell Biology records, Collection 8.
Newly-described collections contain a wide range of materials, including:
These new and updated collections are now searchable from the
Special Collections page
on the Library's redesigned website, as well as through the Library Catalog. Users can also browse the full list of archival collections on our new
Finding Aids page
.
The project is funded by a grant from the National Historical Publications and Records Commission (NHPRC), the granting agency of the National Archives and Records Administration (NARA), as a part of their
Documenting Democracy: Access to Historical Records
program. Library staff from the Special Collections, Bibliographic & Metadata Services, Library Information Technology Services, and Reference departments partnered on the creation and accessibility of the records. In future months the project will allow us to further streamline the updated workflow and continue to create and update new collection records.
To find out more or to view these materials, check out the
Special Collections website
, or stop by and visit us! Learn more about the Library's NHPRC grant and finding aid work be viewing these previous posts:
Albin O. Kuhn Library awarded $23,000 grant, May 21, 2014
Encoded Archival Description in Special Collections, August 24, 2015