Special Collections continues our archival project
Archives Gold: 50 Objects for UMBC's 50th
, a special series showcasing 50 different objects that tell the story of UMBC. This week we present two old UMBC bumper stickers.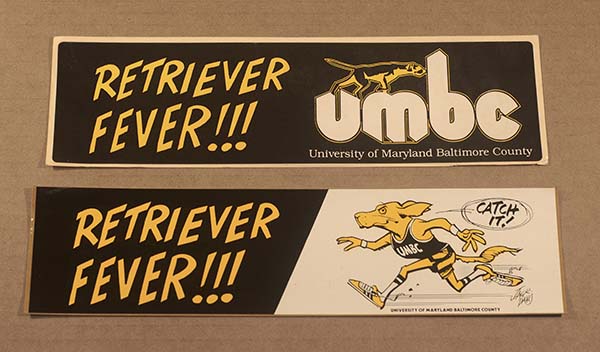 Bumper Stickers. University Publications, University Archives, Special Collections, University of Maryland, Baltimore County (Baltimore, MD) 
Parking has been a common complaint at UMBC since the campus was first opened in 1966. Early issues of The Retriever describe similar parking problems to what students face today: a lack of parking space, frequent parking tickets, and congested traffic. One of the most frequent complaints by students was about the limited amount of white spaces (those reserved for students) and seemingly abundant amount of yellow spaces (those reserved for faculty). By 1976, parking spaces of any kind were hard to come by, with an open letter in The Retriever stating that there were a mere 3,500 spaces available for over 6,500 cars registered.