As UMBC celebrates its 50th anniversary, the university has a chance to reflect on its young but textured past. A new exhibit in Special Collections, Presidents, Past & Present: A Biographical Portrait, explores the lives and leadership of UMBC's five university presidents and chancellors. These hardworking, intelligent men came from various backgrounds and achieved extraordinary success despite some facing tremendous odds. The personality and passions of each of these leaders has seeped into the character of UMBC, creating the diverse, bright, creative and entrepreneurial community that can be seen today. The exhibit includes the Ralph Coats Roe Award gold medal, awarded to Dr. Hrabowski by the American Society of Mechanical Engineers in 2015.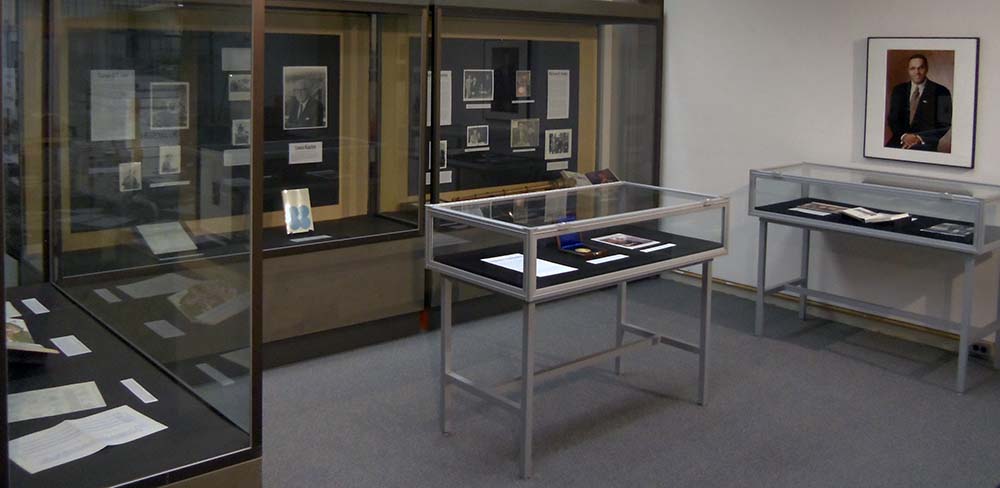 Presidents, Past & Present is curated by Tucker Foltz, a graduate student in Historical Studies. Materials are from the University Archives and Special Collections department. Exhibit assistance was provided by archivist Lindsey Loeper, and Special Collections student assistants Krystyna Dyadyura, Rakshith Gowda, and Jenn Montooth.
On display in the Special Collections Reading Room, March 1 - April 1, 2016. Available Monday-Friday 1-4pm, Thursday 1-8pm, or by appointment.