This blog is part of an ongoing project to catalog and describe The A.O.K. Library's Special Collections' Photography Collections.  This unknown actor's album may be found in the Special Collections at A.O.K. (room 104) as: Actor's Portfolio-Cartes de Visite, Collection 237. The post was written by Austin Kibler, an intern in Special Collections for the summer of 2016 and a graduate student in UMD's HiLS program.
Look at these two photos below, one is of an infamous fellow and the other could be: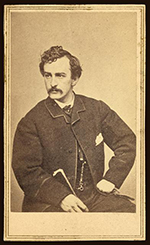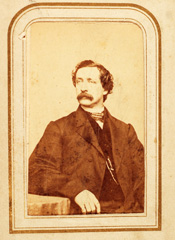 The likenesses are uncanny, are they not? Your Special Collections at the A.O.K. Library is lucky enough to be in the possession of forty headshots of John Wilkes Booth. Well, his
doppelgänger,
as
 a closer inspection of the photos will reveal that this is not, in fact, John Wilkes Booth.  On the left (above and below) is a photo of Booth and on the right an unknown actor from the Photography Collections. The differences are subtle.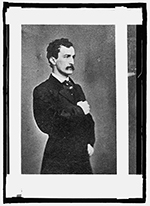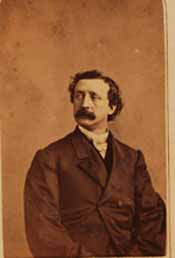 Discovering that an album is of a not-so-famous person can be deflating, after all who does not want a picture of a famous person? Imagine you are cataloging a vast array of photos. Looking at album after album, looking at photo after photo of persons whose identities have been lost to time, then, what is this? A familiar face! What luck! How did a collection of John Wilkes Booth's head-shots get into our collection?! It is very easy for our excitement to carry away our imaginations—even we librarians are prone to it. 
However, just because an image appears to be of a person, does not mean that it is of that person. In cases like this provenance proves to be a very important tool. Think of provenance as the biography of an item, the story of where it was created, all the adventures it had, and places it traveled before it finished its journey in your possession. For librarians and archivists, provenance can help confirm who is in a photo. Trying to discover what a photo is of is much like putting it on trial. Images are assumed to be mundane until they are proven to be exceptional. In the case of this actor's album, there is not enough evidence in the provenance to prove that these 40 photos are of John Wilkes Booth.  Now the question is, who is this actor?
In addition to provenance and comparing the image similar images, there are other ways to investigate and analyze the subject of a photo.  Become an image detective: use your visual literacy skills! Are there any captions, notes, or other metadata accompanying the image?  Can you verify them?  See Standard 3 of the ACRL Visual Literacy Competency Standards for more clues.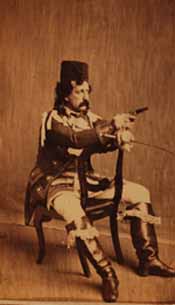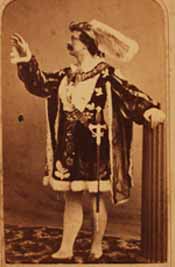 Have you ever seen a doppelgänger; and how do you know the doppel you've seen is not, in fact, the original? 
Special Collections is open to anyone with a photo ID, in the summer by appointment Monday - Friday from 9:00am - 4:30pm. Contact: 410.455.2353 | speccoll@umbc.edu. Fall and spring semesters open M-W 1-4, Th 1-8, F 1-4, and other times by appointment.
Sources:
Gardner, A., photographer. (1865) [John Wilkes Booth / Alex. Gardner, photographer to the Army of the Potomac]. [Washington, D.C.: Philp & Solomons; ca] [Image] Retrieved from the Library of Congress, https://www.loc.gov/item/2008680389. 
John Wilkes Booth. (1925) [Image] Retrieved from the Library of Congress, https://www.loc.gov/item/npc2008007647. 
Actor's Portfolio-Cartes de Visite, The Photography Collections, Collection 237, Special Collections, University of Maryland, Baltimore County (Baltimore, MD).
Thanks, Austin!