Special Collections continues our archival project
Archives Gold: 50 Objects for UMBC's 50th
, a special series showcasing 50 different objects that tell the story of UMBC. This week we present a 1968 drawing of a UMBC coat of arms and corresponding letter.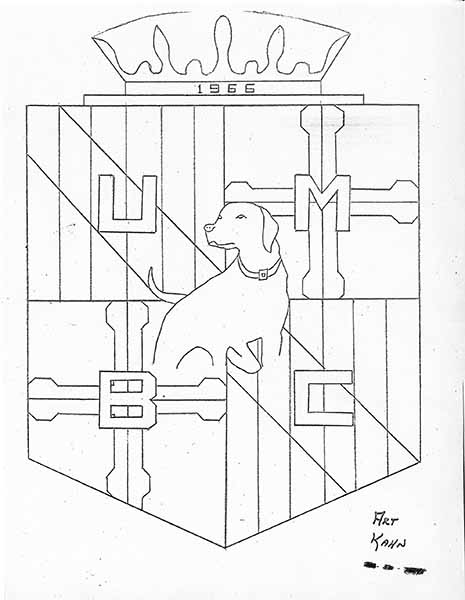 UMBC Coat of Arms drawing, 1968. Coll 107, UMBC Historic Documents Collection, Folder 14. University Archives, Special Collections, University of Maryland, Baltimore County (Baltimore, MD) 
Three years after UMBC first opened, students and faculty expressed their interest in creating a coat of arms for the developing school. One student, Arthur L. Kahn, wrote to Chancellor Albin O. Kuhn and offered him his own design which included the Maryland coat of arms, the UMBC retriever, and the year in which UMBC was founded (see image above). In his letter to Chancellor Kuhn, Kahn expressed his belief that creating an emblem or coat of arms for UMBC would "serve as a symbol in the college community, helping to display UMBC's individuality among other U of M branches in particular." Unfortunately, UMBC never developed a coat of arms but it has had, and continues to have, official logos and seals that represent the school.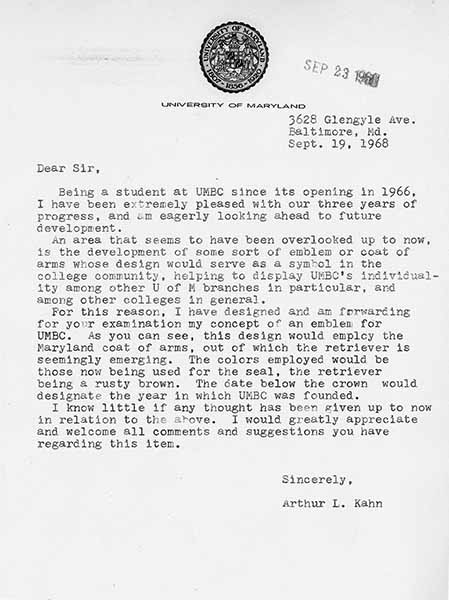 Letter from Arthur L. Kahn to Albin O. Kuhn, September 19, 1968. Coll 107, UMBC Historic Documents Collection, Folder 14. University Archives, Special Collections, University of Maryland, Baltimore County (Baltimore, MD)