Special Collections has recently re-published a digital exhibit on American photographer, John G. Bullock (1854-1939). A colleague of Alfred Stieglitz, this is a must see exhibit for photography enthusiasts and lovers alike. To visit go to the following web address and use the navigation tips at the bottom of the page:
https://umbcphotography.omeka.net/exhibits/show/bullock
John Griscom Bullock (1854-1939) was an American photographer who shows us a great example of pictorialism, or the focus on composition of a photograph rather than reality itself. His work often looks to have a soft focus or a romanticized filter over reality.

The digital exhibit on Bullock focuses on three main themes: rural life, portraits of friends and family, and landscapes. It may be easy to assume that Bullock merely captured what was going on around him, but in actuality he staged a number of his photographs, making it difficult for us as a 21st century viewer to perceive his reality.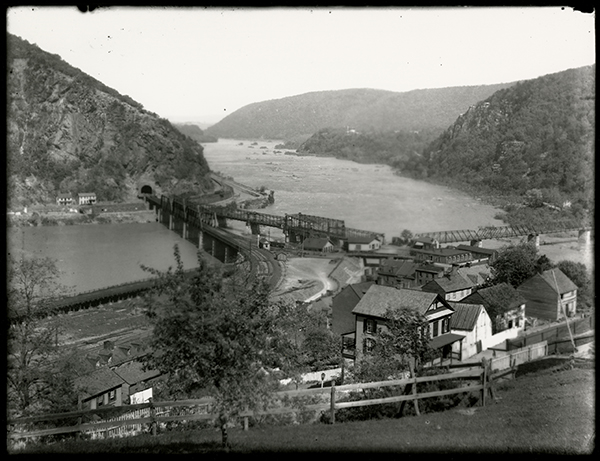 Harper's Ferry from Hill above the Church May 8, 1894, P84-01-078

As a photographer of the late nineteenth and early twentieth century, Bullock, like the majority of other photographers, used gelatin dry plate negatives as the format of his photographs. Essentially, Bullock purchased glass plates coated in a gelatin emulsion-- George Eastman's Kodak Company made these plates widely available by this time. These glass plates allowed Bullock to take photos out in the field unencumbered by a dark room set-up and other developing tools. Instead, Bullock could expose the glass plate to his image, say a herd of cattle, and then develop it later. The gelatin later holds the image on the surface of that glass plate.
Bullock's work spanned four decades. It highlights his own children, his family and friends, and his grandchildren later on in his life. His work offers us a hint at life in the late nineteenth and early twentieth centuries in the Northeast United States.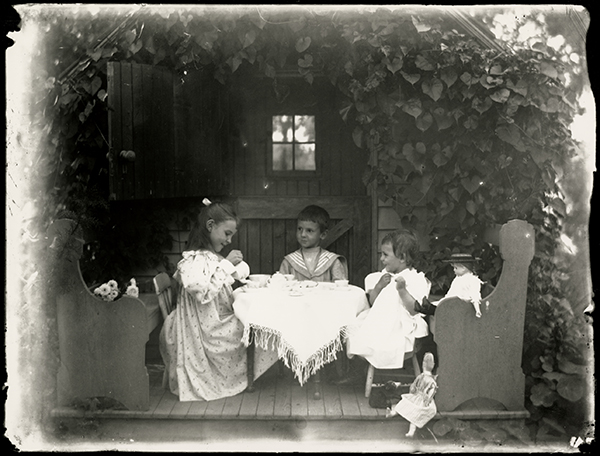 3 Children at Table with Tea Set
, P84-01-433
The entire collection, which contains 1,154 images, is available in UMBC Special Collections at the Albin O. Kuhn (AOK) Library.  A full digital collection is forthcoming.
This online exhibit was originally curated by Special Collections student assistant Sarah Klimek in Spring 2015; Special Collections graduate assistant Jessica Riley adapted and migrated the exhibit to a new platform in Spring 2021. This post was written by Jessica; thank you, Jessica!