'White Student Union' To Begin Nighttime Patrols At Towson U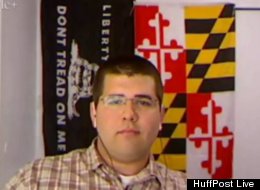 Matthew Heimbach, the founder of the 'White Student Union' at Towson University, appears on HuffPost Live. The group plans to begin patrolling the Towson campus.
A controversial white-pride group said it will begin implementing nighttime patrols on a Maryland college campus to keep would-be attackers at bay.
The White Student Union (WSU), which was founded last year by Towson University senior Matthew Heimbach, plans to start patrolling the school, according to the student newspaper the Towerlight.
"One thing we're doing at night is to have a male member accompany female members across campus or to night classes," Heimbach told the publication. "Not because we're terrified, but in college everyone is focused on themselves. We just want to make campus a better place."
The WSU, which the Southern Poverty Law Center has labeled a White Nationalist hate group, isn't technically affiliated with Towson University, but the group is allowed to use university resources, ThinkProgress notes.
In an apparent attempt to assuage the fears of Towson's nonwhite students, Heimback added, "If we see a white person commit a crime against a person who is not white, we're going to assist the person who was attacked every time."
However, the reassurances seem to contradict a recent WSU blog post bemoaning the school's "black crime wave:"
The frequent robberies, sexual assaults, and acts of vandalism at Towson University are not often reported in the local media. For those who are not Towson students it seems hard to fathom that every single day black predators prey upon the majority white Towson University student body. White Southern men have long been called to defend their communities when law enforcement and the State seem unwilling to protect our people.
WSU members will not be armed during the patrols, although female members will carry pepper spray, the Towerlight reports.
In a statement to the Baltimore Sun, a Townson University representative said: "As one of the safest campuses in the University System of Maryland, we are confident in the work of the Towson University Police force. We maintain our vigilance to keep Towson safe and have not sanctioned patrols by this or any other student group."
Heimbach told the Huffington Post in an email that while his patroils may not have been "cleared" by the police, "we plan to do everything within the limits of the law. Several of our members are veterans who are former military police and at least one of them will be with every patrol. Our goal is to identify, notify, and help. We will identify criminals who are committing crimes, notify the local authorities, and help the victim until first responders arrive."
Recently, the WSU was thrust into the spotlight after comments members made about slavery at the Conservative Political Action Conference (CPAC) were widely circulated online.
Heimbach and fellow WSU member Scott Terry publicly challenged CPAC panel discussion leader K. Carl Smith on the need for diversity in the Republican party. Terry said Republican party outreach toward black conservatives was being sought "at the expense of young, white, Southern males like myself."
"I think my demographic is being systematically disenfranchised," Terry said, adding that he'd "be fine" with a society where blacks were subservient to whites.
Heimbach later told The Baltimore Sun that "diversity is not strength."
Raw Story points out that these types of citizen patrols are also favored by the Greek Neo-Nazi Golden Dawn party. The outlet notes that in the past, Heimbach has called the group an inspiration for the WSU.
Editor's Note: The text has been changed to include comment from Matthew Heimbach.
(edited over 9 years ago)