In partnership with Maryland Traditions and the Maryland State Arts Council, the Special Collections department is excited to make available the Jason Pate collection. Special Collections student assistant Riley Auer assisted with the processing of the collection and prepared this blog post. Thank you, Riley!

Jason Thomas Pate (1915-1960) first aired his radio station, WASA, on May 15, 1948 in Havre de Grace, Maryland. It was the first broadcasting station between Baltimore, MD and Wilmington, DE playing 500 watts and eventually expanded to some 1500 watts before its sale to KME in 1992. After a sudden heart attack, Pate died in 1960 leaving two radio stations, WASA and WHDG, in the care of his wife, Virginia Forwood Pate Wetter. Although Pate Wetter had no previous broadcasting experience, she accepted the role of President of WASA (1960) and CEO of the Chesapeake Broadcasting Company (1985), parent company to WASA, and continued her husband's legacy with the help of her son Jason David Pate.
WASA made its fame by establishing itself as an authority on folklife in the Appalachian and Chesapeake Regions. Influential artists such as "jubilee" singers the Little Wonders, banjoist Ted Lundy, country gospel singers E.C. and Orna Ball, singer and banjoist Ola Belle Reed (1916-2002) and her brother, guitarist Alex Campbell (1923-2013), also made frequent appearances performing traditional folk and bluegrass music. Reed and Campbell, natives of Ashe County, North Carolina, quickly rose to local fame by performing at various music parks, alongside other musicians, and on local radio stations, such as Pate's stations. Reed later began a successful solo career leaving a legacy that has inspired artists such as Tim O'brien, Marty Stuart, Del McCoury, the Avett Brothers, and more. In 2015 Clifford Murphy, Henry Glassie, and Doug Peach published a book and two-part audio collection titled Ola Belle Reed and Southern Mountain Music on the Mason-Dixon Line (UMBC catalog record). The book and recording, based on research compiled by Glassie in the 1960s and recent fieldwork by Murphy, Glassie, and Peach, documents the careers of Ola Belle and Alex, and their many projects and contributions to the genres of bluegrass and folk.

A selection of materials from the Jason Pate collection: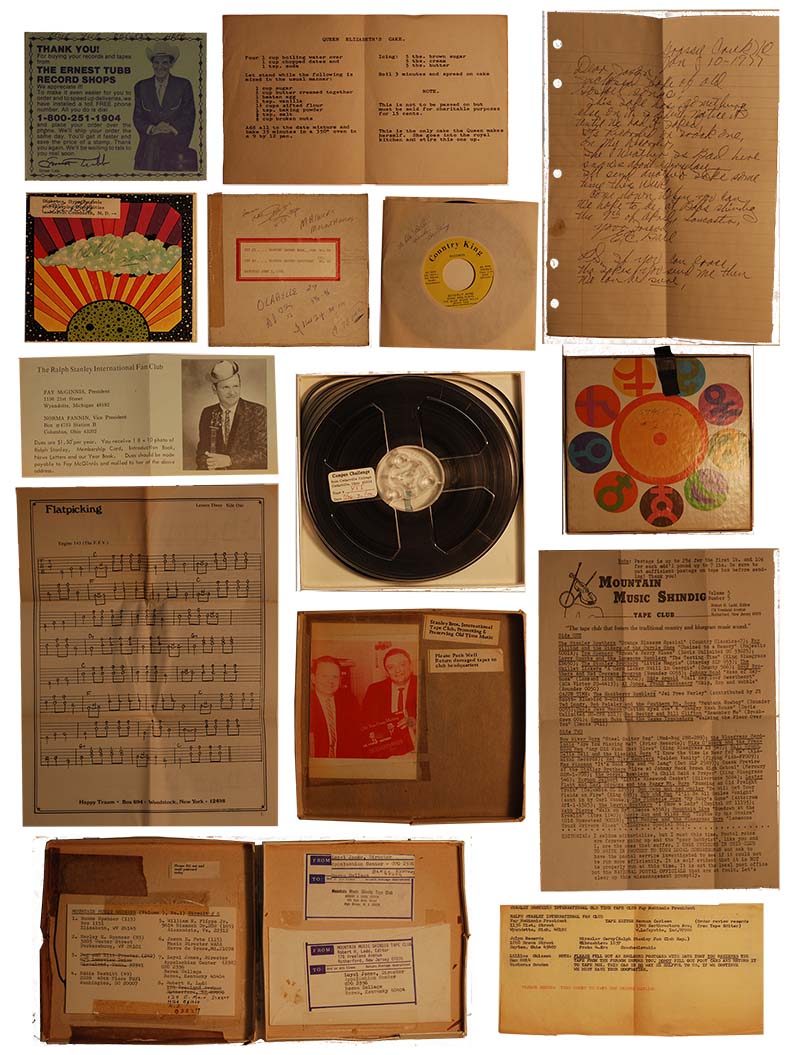 Today a large collection recordings from WASA can be found within the American Folklife Center (AFC) at the Library of Congress, and, here, at the UMBC Special Collections. Thanks to efforts by Murphy, then the director of Maryland Traditions (the state's folklife program), UMBC proudly holds several Maryland folklife collections including the Jason Pate collection which features over 1,000 audio recordings from WASA and WHGD whose axillary contents include fan letters to Pate, club mailers, guitar lessons, artist posters, and more. After 2 years of careful photo-documentation, cataloguing, and detailed processing, the Jason Pate collection has been processed and is open to the public.
For more information about the individuals Jason Pate hosted on his radio shows, including those mentioned above, see the Jason Pate collection finding aid or contact the Special Collections department.
Reference list for the attached image, left to right, top to bottom:
Thank you note from "The Ernest Tubb Record Shops", (Coll123_0364)
"Queen Elizabeth's Cake" Recipe, (Coll123_1194)
January 10, 1977 Letter from E.C. Ball, (Coll123_0109)
Ola Belle Reed recording dated September 23, 1975, (Coll123_1051)
Ola Belle Reed & Maiwers Mountaineers Recording, (Coll123_0362)
"Beverly King Sings and Plays the Blue Ridge Hills" 45 record, (Coll123_1255)
"The Ralph Stanley International Fan Club" insert, (Coll123_0064)
View of "Campus Challenge, Tape #455", (Coll123_0188)
Chuckie Reed, Ola Belle Reed + Friends recording dated July 10, 1976, (Coll123_1524)
"Flatpicking" sheet music, (Coll123_0055)
Interior of a tape container lid, (Coll123_0064)
"Mountain Music Shindig; Vol. 5, No. 5" mailer, (Coll123_0041)
View of "Mountain Music Shindig" tape container interior, (Coll123_0364)
"Stanley Brothers Old Time Tape Club" insert, (Coll123_0064)